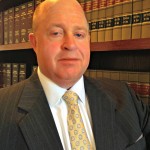 Oklahoma City, Oklahoma
Managing Partner
phone: 405-521-9900
toll free: 866-318-4359
fax: 405-488-0529

Mr. James is a native Oklahoman born and raised in Cushing, Oklahoma. While in high school, he was active in numerous activities including football, golf, and track. Upon graduation with honors from Cushing High School in 1980, he attended the University of Oklahoma where he played varsity football for the Oklahoma Sooners as an offensive lineman. He received his Bachelor of Arts in Criminal Justice from Central State University in Edmond, Oklahoma, now known as The University of Central Oklahoma. Upon graduation he then received his Juris Doctorate from the Oklahoma City University School of Law.
While completing his undergraduate work, Mr. James was a intern criminal investigator for the Office of the Oklahoma Attorney General. During his tenure at Oklahoma City University School of Law, Mr. James interned in Oklahoma City for C. Merle Gile, a prominent Oklahoma City criminal defense attorney. During this time, Mr. James received a vast amount of criminal defense training and experience. Prior to graduating law school, Mr. James assisted in trying numerous felony cases, including two capital murder cases.
Upon graduation from the Oklahoma City University School of Law, Mr. James began his law career in Oklahoma City. Mr. James has represented thousands of clients in criminal matters ranging from misdemeanor to felony cases, including murder. Mr. James has developed the reputation within the legal community of handling difficult criminal cases. Mr. James has numerous acquittals of clients charged with murder in the first degree, including those where the death penalty was sought. While Mr. James has maintained an emphasis in the area of criminal defense, his practice has evolved into representation of numerous clients, including corporations, cities and towns, in many diverse areas of law.
In 1996 Mr. James secured the acquittal of Larry Tannehill in the high profile murder trial surrounding the death of Ryan Luke. As a result of Mr. Tannehill's acquittal, Mr James received the 1996 Presidential Award from the Oklahoma Criminal Defense Lawyers Association for Outstanding Criminal Defense Advocacy
In 1999 Mr. James was selected by the Oklahoma Indigent Defense System to represent Timothy McVeigh as a result of the prosecution by the State of Oklahoma of Mr. McVeigh for the bombing of the Alfred P. Murrah Federal Building in Oklahoma City.
Mr. James success in the legal field has led him to be retained by numerous police agencies and organizations in the defense of civil rights lawsuits. Further, Mr James has served as General Counsel to the Oklahoma State Troopers Association, the Oklahoma ABLE Agents Association, and the Oklahoma Game Warden Association
Mr. James is still active in his association and support of college football and athletics at the University of Oklahoma. His other activities include serving on the Board of Directors of the Jim Thorpe Association;the Selection Committee of the Jim Thorpe Award for the Oustanding Defensive Back in College Football;the Honors Committee of the Oklahoma Sports Hall of Fame and numerous other Committees that support and promote Oklahoma sports history and heritage.
Mr. James has been peer review rated by members of the Bar and Judiciary and carries the highest rating established by the Martindale-Hubbel Directory. This AV rating is based upon Mr. James's reputation of high ethics and preeminent legal ability. Mr. James is also listed in the Bar Registry of Preeminent Lawyers,Best Lawyers In America, Oklahoma Super Lawyers and in the Outstanding Lawyers of America.
Areas of Practice:
Criminal Defense
Drug Offenses
DUI
Murder
Violent Offenses
Personal Injury
Wrongful Death
Medical Malpractice
Family Law
Divorce
Child Custody
Civil Rights
Appeals
Litigation Percentage:
75% of Practice Devoted to Litigation
Bar Admissions:
Oklahoma, 1988
Education:
Oklahoma City University School of Law, Oklahoma City, Oklahoma, 1988 J.D.
Central State University/ now known as University of Central Oklahoma, Edmond, Oklahoma, 1985
B.A.
Honors: Dean's Honor Roll
Honors: Alpha Phi Sigma National Criminal Justice Honor Society
Major: Criminal Justice
Representative Clients:
American International Group (AIG)
Ma/Com, a division of Tyco Electronics
Motor Carrier Safety Consultants, Inc.
Oklahoma State Troopers Association
Alcohol Beverage Law Enforcement Agents Association (ABLE)
Comet Cleaners, Inc.
Integris Realty Corporation
Integris Health Systems of Oklahoma
Baptist Medical Center of Oklahoma City
State of Oklahoma
Corporate Auto and Marine
Cabgal, Inc.
Jim Thorpe Association
Craftsman Roofing, Inc.
Howard Aircraft, Inc.
Oklahoma Indigent Defense System
Rightway Medical, LLC
Oklahoma Investigative Group, LLC
City of Edmond, Oklahoma
Oklahoma State Game Wardens Association
Galaxy Distributing Company
Billiards of Tulsa, Inc.
Power Products, Inc.
TriCorp Security, Inc
Southern Craftsman, LLC
City of Coweta, Oklahoma
Classes/Seminars Taught:
When is a Confession Induced?, Patrick Williams-Criminal Defense Institute-Oklahoma Criminal Defense Lawyers Association, June 23, 2011 – June 24, 2011
The Criminal Defense Trial From Start To Finish, Oklahoma Criminal Defense Lawyers Association, April 23, 2009 – April 24, 2009
Voir Dire and Opening Statement, National Business Institute, December 9, 2008
58th Oklahoma Highway Patrol Academy, Oklahoma Department of Public Safety, 2008
Criminal Defense in the Death Belt III; Prosecutorial Misconduct, Oklahoma Criminal Defense Lawyers Association/Oklahoma County Public Defenders Office, August 23, 2007 – August 24, 2007
57th Oklahoma Highway Patrol Academy, Oklahoma Department of Public Safety, 2007
Criminal Defense in the Death Belt Voir Dire/Theories of Jury Selection, Oklahoma Criminal Defense Lawyers Association and Oklahoma City University School of Law, 2004
Forensic Evidence: Deconstructing and Reconstructing a Crime Scene" Crime Scene Presentation, The Oklahoma Criminal Defense Lawyers Association and Oklahoma City University School of Law Year, 2002
Criminal Defense: Practical Advice from Practical Lawyers Practical Advice on Jury Selection, Tulsa Program, Oklahoma Bar Association, 2004
Voir Dire and Opening Statement, Oklahoma Bar Association Annual Convention, 2001
Honors and Awards:
Presidential Award for Outstanding Criminal Defense Advocacy :Oklahoma Criminal Defense Lawyers Association, 1996
Best Lawyers in America * Non-White-Collar Criminal Defense, 2008 – Present
Outstanding Lawyers of America, 2002 – Present
Bar Registry of Preeminent Lawyers, 1996 – Present
Oklahoma Super Lawyers, 2009 – Present
Professional Associations and Memberships:
Criminal Law Committee, Oklahoma Bar Association
Oklahoma Trial Lawyers Association
American Association for Justice
Oklahoma Criminal Defense Lawyers Association
National Association of Criminal Defense Lawyers
American Inns of Court Barrister, Luther Bohanon Inn of Court
Past Employment Positions:
Oklahoma Attorney General, Intern Investigator, 1982 – 1984
Pro Bono Activities:
Oklahoma State Mock Trial Competition- Judge, 2006 – Present
Jim Thorpe Association, 1996 – Present
Oklahoma Sports Hall of Fame, 1996 – Present
Ancillary Businesses:
Registered Lobbyist – Oklahoma
Fraternities/Sororities:
Sigma Chi Alpha Phi Sigma